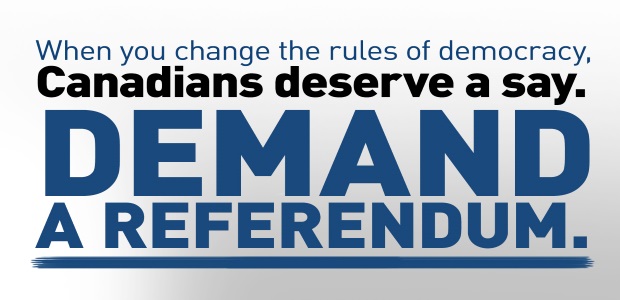 Electoral Reform Referendum
As your Member of Parliament, I am actively seeking your input regarding a referendum on electoral reform. As you may know, the governing Liberal Party is proposing changes to Canada's system of calculating election results but has yet to provide a plan with a clear description of what they propose to change or how the changes would be made.
Do you believe that it would be appropriate for such a serious matter to be put to a national referendum to provide every Canadian voter the opportunity to vote on the question of whether or not Canada's longstanding system of calculating votes should be changed?
In order to obtain quantifiable results, an information pamphlet was mailed to all residences in the North Okanagan- Shuswap riding which includes a ballot and space for comments that can be mailed back to my office with which constituents can indicate whether or not they favour a referendum on electoral reform.
You may view the information pamphlet mailed to your home here.
You may also learn more about various electoral systems at this website operated by Samara Canada.
Thank you in advance for taking the time to provide your input on this important matter! 
Sincerely,
Mel Arnold, MP
North Okanagan- Shuswap